Anupama Shekar
Research, Policy and Evaluation Researcher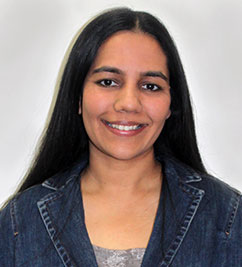 Dr. Anupama Shekar is an Associate Researcher at the Wisconsin Center for Education Research. She is currently working on the Early Years Research & Development Coaching Project. She will be involved in doing literature and research reviews for coaching within contexts of leadership, professional learning communities, families and communities among other areas. She will also provide support for developing materials and program evaluation tools for the Early Years coaching program.
She is also working towards expanding her dissertation work around the areas of principal leadership and parent and family involvement among low-income communities, both in the U.S. and India.
In the past, she was a Post-Doctoral Research Associate working in WIDA's Teaching & Learning Department. Her primary responsibility involved doing evaluation related to WIDA's professional development programs and initiatives. She supported WIDA's efforts to develop, implement, and evaluate continuous improvement practices.
She also worked on WIDA's LADDER professional development program for several years to assist consortium schools in making data-driven decisions about their English language learners. Prior to moving to the U.S, she received a Master's degree in Journalism and worked as a journalist focusing on public educational policy issues in South India.
She earned her doctoral degree from the Department of Educational Leadership and Policy Analysis at the University of Wisconsin-Madison in 2013. Her dissertation work focused on the successful parent and family involvement practices of public school headmasters and headmistresses in urban and suburban districts in Tamil Nadu, India.
Contact Information
anupama.shekar@wisc.edu
Phone: (608) 770-4104
Office: Ed Sciences
Current Projects
WIDA
Completed Projects
Literacy in Assessment and Data Designed for Effective Results for English Language Learners (LADDER)