Indira Ceylan
Project Manager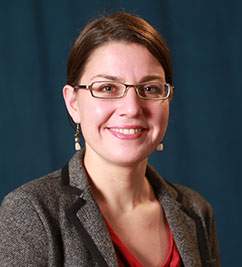 Indira Ceylan is a Project Manager and a member of the WIDA Project Management Office. She oversees several cross-departmental projects in the area of developing and improving resources for educators of multilingual learners.
In 2017-2018, Indira also served as grant manager of the Alternate English Language Learning Assessment (ALTELLA) project which focuses on English learners with cognitivie disabilities.
Prior to her current position, Indira was a Professional Learning Outreach Administrator at WIDA and worked in close cooperation with state partners and WIDA facilitators to develop and deliver professional learning opportunities, with a focus on WIDA Early Years.
Originally from Germany, Indira has an LL.M in Globalisation and Law from Maastricht University, the Netherlands, and a B.A. in European Studies from Magdeburg University, Germany. Indira is a certified Project Management Professional (PMP).
Contact Information
iceylan@wisc.edu
Phone: (608) 890-4465
Office: 753J Ed Sciences
Current Projects
WIDA
Completed Projects
Alternate English Language Learning Assessment (ALTELLA)