Janet Kelly
Director of Communications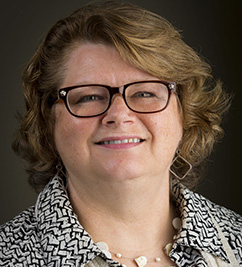 Janet had led internal and external communications for the Wisconsin Center for Education Research at UW-Madison's School of Education since 2014.
She manages a team that develops and implements strategies and activities to enhance interdisciplinary education research, increase the impact of WCER research and services, and better connect WCER to the university, city, state and nation.
For the past 20 years, Janet has lived in Madison, WI, and worked to advance higher education. Before joining WCER, she served as the communications director for the Wisconsin Alumni Research Foundation (WARF) and Madison College (MATC).
During the prior 10 years, she worked in Chicago at two Fortune 100 companies and a family-run business. She held private sector communications and administrative positions at Citibank/Citicorp, including as a branch manager in southern, CA; Walgreen Co. corporate headquarters; and at a speciality food company.
She holds a B.A. in English from the University of Illinois at Urbana-Champaign, studied for a year at Lancaster University in the north of England, and also completed Duke University's Executive Education Program for Manager Development.
She has been recognized for producing exceptional communications materials, as well as for demonstrating strong people management and customer service skills.
Contact Information
janet.kelly@wisc.edu
Phone: (608) 890-3926
Office: 783 Ed Sciences
Current Projects
Director's Office & Communications