Angel Cartagena
Human Resources Generalist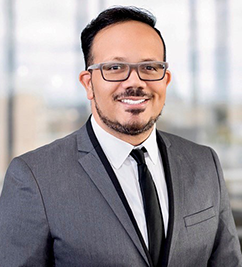 Angel is a Human Resources Generalist at the Wisconsin Center for Education Research (WCER), an advanced support position for the center. He provides guidance to Principal Investigators, Supervisors, Project Managers, and Staff on a complex set of human resources and payroll policies, procedures, and best practices. Angel performs a wide variety of human resources responsibilities for WCER like:

• Advice about HR policies, procedures, compliance, and best practices
• New employees onboarding process
• Benefits and Payroll
• Hiring and recruitment's support, Classification and compensation support
• Leave of Absences Administration support

This position act as the first point of contact for Academic Staff/University staff payroll and benefits questions. Also, handle onboarding for all new Academic Staff and University staff at WCER. Angel also oversees the biweekly and monthly payroll for the center. Provide guidance and advice about appointments, policies, and procedures. In addition, collaborate with the strategic plan for Diversity, Equity & Inclusion (DEI) initiatives in the center and promote them.

Angel, originally from San Juan, Puerto Rico, has a professional background in HR, Finance, and Politics. He has worked as a Campaign Manager/Public Relations Strategist and Social Media Consultant for politicians and government elected officials in Puerto Rico. Angel possesses studies in Political Science from the Inter-American University of Puerto Rico (Universidad Interamericana de Puerto Rico), Metropolitan Campus. He also has worked in the non-profit and private sector with organizations like Latino Academy for Workforce Development, Aramark, Healthgrades, and Hy Cite Enterprises in the Madison area. In his free time, he enjoys reading, traveling, and baking/cooking.

Pronouns: He, Him, His
**Spanish pronunciation: Ahn-hel (Angel) /Kahr-tah-hee-nah (Cartagena)**
Contact Information
alcartagena@wisc.edu
Phone: (608) 890-1531
Office: 242Q Ed Sciences
Current Projects
Business Office