Demetria Joyce
State Relations Early Years Specialist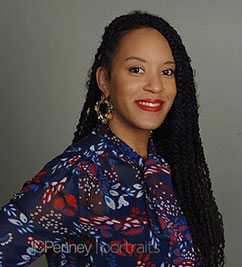 Demetria Joyce is a State Relations Specialist supporting WIDA Early Years States. Her work includes serving as a primary contact to WIDA Early Years Member States and assisting states in the planning and roll-out of Early Years products and services.
Demetria comes to WIDA from the Georgia Department of Early Care and Learning where she served as an Instructional Learning Manager. She oversaw the agency's projects related to supporting young Multilingual Learners, Early Learning Standards, Assessment, Curriculum, and Instructional Planning. During her tenure at the Georgia Department of Early Care and Learning, Demetria also served in the role of a Georgia's Pre-K Consultant where she supported programs in meeting State Pre-K requirements.
Deeply engrained in Demetria is the love of language and an innate compassion for young language learners. She discovered this compassion while living in Panama as a child. Demetria is a CEELO (Center on Enhancing Early Learning Outcomes) Fellow where she completed the prestigious leadership Academy. Demetria received a Bachelor's degree in English Education from Brewton-Parker College. She also received a Master's Degree in Foundations of Education from Troy University.
Contact Information
djoyce3@wisc.edu
Phone: (404) 717-6282
Office: Ed Sciences
Current Projects
WIDA