Lori Hanna
Professional Learning Specialist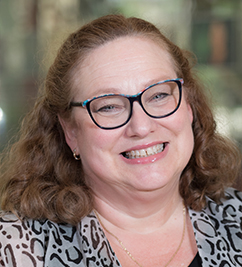 Lori Hanna has over 20 years of experience in the field of education in both the private and public school systems in Missouri. Teaching in the elementary classroom setting and then as an English language development specialist in grades K-12 has given Lori an understanding of the demands that teachers face in supporting the learning needs of all students. She is a passionate advocate for English language learner and their families.
Before joining WIDA Lori served as the Director of ELL Curriculum at the Missouri Department of Elementary and Secondary Education where she developed and managed several projects to support the success of ELLs in the state. One of these projects developed a process for ESL and content teachers to collaborate in analyzing the language demands of the Missouri Model Curriculum units and then create materials that were differentiated for ELLs.
Lori holds a Master's degree in TESOL from Southeast Missouri State University and a Bachelor's degree in elementary education from Lindenwood University in St. Charles, Missouri.
Contact Information
lori.hanna@wisc.edu
Phone: (636) 751-5018
Office: Field Based
Current Projects
WIDA