Analleli Muñoz
Professional Learning Specialist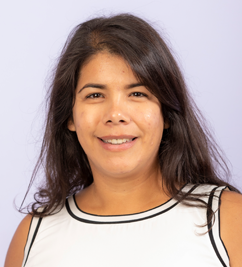 Analleli Muñoz is a Professional Learning Specialist with WIDA. Her background as an ESL tutor, elementary educator for emergent bilinguals, a Bilingual Lead Teacher and as a Dual Language Coordinator allows Analleli to connect with families, educators, and administrators serving linguistically and culturally diverse students.
As a first-generation immigrant, she is fully vested in the communities she serves and feels a strong sense of responsibility toward the success of emergent bilinguals. She is driven by the potential of equitable access to education as an agent for social justice.
She has a B.A. in Elementary Education with a minor in Linguistics and a M.A. in Reading from Northeastern Illinois University and a M.Ed. in Instructional Leadership in Educational Studies from the University of Illinois in Chicago.
Contact Information
amunoz5@wisc.edu
Phone: (630) 677-3998
Office: Education
Current Projects
WIDA