Tara White
WIDA Educator Outreach Specialist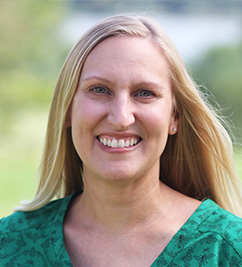 Tara White works in the WIDA Client Services Center assisting in the development and delivery of technical assistance to educators on test administration, training course accounts, and the WIDA standards.
Prior to joining WIDA, she worked with several non-profit organizations and schools in Dane county, WI, including as a bilingual service coordinator with Bridges for Families Birth-to-Three, as an outreach advocate with Unidos Against Domestic Violence, and as the community response and prevention coordinator at End Abuse Wisconsin. In addition, she has served as a bilingual resource specialist and teacher with the Madison Metropolitan School District and has taught elementary, middle, and high school Spanish at Madison Country Day School.
She holds a B.A. in Spanish from the University of Dayton and a M.A. in Women's Studies from Ohio State University. Tara enjoys writing, dancing, and spending time with family and friends both at home and abroad.
Contact Information
tara.white@wisc.edu
Phone: (608) 890-1017
Office: Ed Sciences
Current Projects
WIDA