Rebecca Cors
Scientist and Evaluator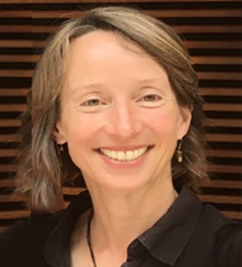 Languages: English (native), German (fluent: B2-C1), Mandarin (A2)
Contact Information
rcors@wisc.edu • Phone: (608) 265-8788 • Office: 551F Ed Sciences
Bio
Rebecca Cors is a social scientist and evaluator at WCER who studies how people learn about, and co-exist with, science and nature. She is fascinated with how people and organizations learn and develop in ways that enable them to thrive. Rebecca's career began in environmental education and outreach at places like the Wisconsin Department of Natural Resources and at a university in China, where her primary assignment as a
Peace Corps Volunteer
was environmental education. In 2009, she went on to work with the
Institute of Environmental Decisions
at ETH Zurich and, then, to earn her
PhD
at the University of Geneva, Switzerland, studying out-of-classroom science education. In 2017, she
joined the
Wisconsin Evaluation Collaborative
, where she continues to support education programs through research and evaluation. She has published and presented research about out-of-school learning, science and nature education, and about collaborations to promote natural resources management. In addition, Rebecca is a Wisconsin Natural Master Naturalist, and enjoys hiking, reading, and learning languages.
Resources for Program Managers
Work with Rebecca to...
NSF external evaluator experiences
In 2021, I served on an NSF proposal review panel. The table below shows projects I work(ed) on.
Broader impacts: Galaxy Scouts Comic Books

NSF AAG, Astronomy and Astrophysics

2021-2024

NSF #2108370

Preparing future leaders: Rural resource resiliency

KSU NRT, Training

2018-2023

NSF #1828571

Broader Impacts: Madison Astronomy Undergraduate Initiative (MAUI)

NSF AAG, Astronomy and Astrophysics
2022-2025
NSF #2205519

NSF IGE, Innovations in Graduate Education

2018-2022

NSF #1806908

Polar Virtual Reality Exhibit

AISL, Informal Learning

OPP, Polar Programs

2017-2019

NSF #1612504

EMMET (Explore Making through Mobile Emerging Technology)

DRL, Research and Learning

2017-2019

NSF #1639915
Client Testimony
UW-Madison Astronomy STEM youth outreach through Galaxy Scouts Comic Books
"Working with Rebecca was immensely beneficial and enjoyable! She helped us clearly identify project outcomes for our comic book project, and kept the project in line via detailed evaluations at every stage, while at the same time encouraging us to think big. In addition to being highly professional and efficient, Rebecca's easy-going personality made everyone at ease and happy to participate in project discussions. "
~ Professor Snezanna Stanimirovic, Astronomy Department, UW-Madison
UW-Madison Materials Materials Science Education Group
"Working with Rebecca for the past several years has really improved the quality of, not just our evaluation process, but of our entire project. During regular meetings, Rebecca has helped us to think more strategically about what our goals are, the best methods to measure impact, and how we can use the results to improve our project."
~ Anne Lynn Gillian-Daniel, Director of Education/Outreach, Wisconsin Materials Research Science and Engineering Center
Kansas State University NSF NRT Graduate Traineeship Program Leader Team
"I highly recommend WCER and Dr. Cors for evaluation services. I have had the pleasure of working with Rebecca as PI of an NSF Research Traineeship (NRT), Rural Resource Resiliency, which focuses on interdisciplinary training, coursework, and research. Dr. Cors is responsive, collaborative, and professional. Rebecca's evaluation services have been instrumental in providing timely feedback on the program and improving its functions."
~ Professor Melanie Derby, College of Engineering, Kansas State University
Example research and evaluation projects
Natural resources management and conservation
Research Papers, Conference Papers, Reports, Book Sections
Cors, R. (2023). Summative Evaluation Report prepared for the KSU NSF Research Traineeship. Wisconsin Evaluation Collaborative.
Cors, R., (2022). Year 1 Evaluation Report, Galaxy Scouts Comic Book Series. UW-Madison Astronomy Department, Astronomy Education Website. Available online: https://www.astro.wisc.edu/wp-content/uploads/sites/1730/2022/11/221123-Galaxy-Scouts-Evaluation-Y1-Report.pdf.
Shamir, M., & Hutchinson, S., & Hock, G., & Hansen, R., & Aguilar, J., & Hendricks, N., & Parameswaran, P., & Sanderson, M., & Cors, R., & Derby, M. (2022, August), Development of a graduate-level capstone course for interdisciplinary researchers: design approaches and lessons learned Paper presented at 2022 ASEE Annual Conference & Exposition, Minneapolis, MN. https://peer.asee.org/40956
Shamir, M., Hutchinson, S., Hock, G, Agliar, J. Hendricks, J., Prarameswaran, P., Sanderson, M.R., Cors, R., & Derby, M. (2022). Interdisciplinary Capstone Experience for Master's and Doctoral Students in STEM at Kansas State University, Number: 3957. Paper presented at 2022 ASEE Annual Conference.
Cors, R. & Bell, C. 2022, April 21, Retrospective pre-posttests are ideal for evaluating many informal learning experiences. Center for the Advancement of Informal Science Education (CAISE), informalscience.org. https://www.informalscience.org/news-views/retrospective-pre-posttests-are-ideal-evaluating-many-informal-learning-experiences.
Shamir, M., & Sanderson, M. R., & Cors, R., & Derby, M. (2021, July), How small, interdisciplinary programs are contributing to diversity and inclusiveness in STEM university departments in the US. Paper presented at 2021 ASEE Virtual Annual Conference. Content Access, Virtual Conference. https://par.nsf.gov/servlets/purl/10340752.
Cors, R., Murphy, M., Tangen, T. (2019). Summer Science Camp for Rural Wisconsin High School Students 2018: Demystifying Science Academic and Career Opportunities. Center for Advancement of Informal Science Education (CAISE). Link to report.
Tredinnick, R., Cors, R., Madsen, J., Gagnon, D., Bravo-Gallart, S., Sprecher, B., & Ponto, K. 2020. Exploring the universe from Antarctica - an informal STEM polar research exhibit. Journal of STEM Outreach, Volume 3. https://bit.ly/JSOTredinnick.
Cors, R., Müller, A., Robin, N. (2018). Development of an instrument for measuring pupils' familiarity with science education settings. Proceedings from the 2017 European Science Education Research Association Conference. Dublin City University, Dublin, Ireland. August 21-25, 2017.
Niebert, K, Petchey, S., Cors, R., Brown, R. (2018). K2P 1: Formative Assessment – How can I know more about what my students know?. In MOOC Teaching Science at University.
Cors, R., Müller, A., Robin, N., Kunz, P. (2017). Toward a more comprehensive framework for investigating novelty at out-of-school learning places for science and technology. Progress in Science Education. CERN Publishing, Geneva, Switzerland. Available online: goo.gl/4zFR53.
Cors, R. (2016). Informal science learning: An investigation of how novelty and motivation affect interest development at a mobile laboratory (Dissertation, no.5019). University of Geneva. Available online https://archive-ouverte.unige.ch/unige:91515.
Cors, R., & Robin, N. (October 2016). Evaluating informal science education: Identifying and measuring meaningful indicators of program effectiveness for a mobile laboratory program. Journal of Finnish Universities of Applied Sciences. (Special Issue: EAPRIL 2016). Available online: goo.gl/VQbGVq.
Cors, R., Müller, A., Robin, N. (2015). Advancing informal MINT learning: Preparation and novelty at a mobile laboratory. New Perspectives in Science Education, 53-58.
Cors, R., Matsubae, K., Street, A. (2013). P is for process and parity: How MFAs, transdisciplinarity, complex adaptive systems thinking and education reform are keys to better managing phosphorus. K. A. Wyant, J. R. Corman, and J. Elser (Eds.), In: Phosphorus, Food, and Our Future. Oxford Press.
Ulrich, A.E. & Cors, R. (2011). Global TraPs: An international effort to promote sustainable use of phosphorus. In: Ecoregion Perspectives. Sustainable Agriculture in the Baltic Sea Region in times of peak phosphorus and global change. Baltic 21 Series No. 4/2011.26-28.
Cors, R. (2004). Improving U.S. State Agency Environmental Management through Organizational Learning, Action Research, and International Exchange. Gaylord Nelson Institute for Environmental Studies, Land Resources. Program Thesis, University of Wisconsin – Madison.
Cors, R. (2003). What Is a Learning Organization? Reflections on the Literature and Practitioner Perspectives. EPD 699: Organizational Learning for Environmental Management. Engineering Professional Development Department, UW-Madison, Madison, WI.
Cors, R., Courter, S., Eagan, P. (2003). Promoting Environmental Protection Through Collaborative, Learning-Based Approaches. American Society for Engineering Education Annual Conference Proceedings.
Eagan, P., & Cors, R. (2003). An Organizational Change Strategy to Improve Environmental Protection. International Symposium on Electronics and the Environment in conjunction with the IEEE Electronics and Recycling. Summit Proceedings, Boston, MA.
Cors, R. & Eagan, P. (Winter 2003). Industry and Ecology, a Partnership that Works. Wisconsin Academy Review, Madison, Wisconsin.

Lectures and Training Workshops
"Successful Evaluations start at the beginning," Effective NRT Practices Panel, New PI Orientation. National Science Foundation. August 2021, 2022.
"The Role of Evaluation in the NRT Program," Trainee Retreat and Orientation. KSU R3 NRT Program. October 2021, 2022.
"Evaluating Informal Science Education (ISE) Programs," a guest lecture for MEC 803 Course: Informal Science Education for Scientists and Engineers, UW-Madison. September 18, 2020.
"Mobile Laboratory Think Tank: Interpreting results of a study about optimizing a mobile science education laboratory," Mobile Laboratory Conference, Columbus, Ohio, July 12-15, 2016.
"Promoting pupil interest in science & technology: A study about novelty at a mobile laboratory," 9th Swiss Forum for teaching science, PH Freiburg, Switzerland January 2016
"Engaging under-represented groups in Global TraPs," a research effort about sustainable phosphorus use led by ETH Zurich and the International Fertilizer Development Center. Zurich, Switzerland. August 2011.
"Academic writing for non-native English speakers: sheer madness or a walk in the park?" A writing workshop for the Natural Social Science Interface group, ETH Zurich, Switzerland. March 2011.
"Warum schützen meine Nachbarn die Umwelt nicht?" (Why don't my neighbors live sustainably?), facilitated discussion about behavior change campaigns, Liechtenstein Verein Welt und Heimat, March 2010.
"Focus Group Research Methods," Guest Lecturer, Sociology Department, Western Washington University Sociology Department, Bellingham, Washington, U.S. Fall 2008, Winter 2009.
"Encouraging Pro-Environmental Behaviors and Lifestyles," Society for Human Ecology International Conference Session Coordinator: Community Based Social Marketing, Western Washington University, Bellingham, Washington, U.S. September 2008.
"China and Global Population Issues," Sociology Department, Western Washington University Sociology Department, Bellingham, Washington. Spring 2008.
"Peace Corps Service in China," Fairhaven College, Bellingham, Washington, U.S. Fall 2007.
"The Great Turning," Facilitated a public meeting discussion of this book by David Korten for the Bellingham Unitarian Fellowship, Green Sanctuary Program, Washington, U.S. Fall 2007.
"Effective Technical Presentations," University of Wisconsin-Madison, School of Engineering, Design and Analysis of Manufacturing Systems course. Spring 2003, Spring 2004.
"A Conversation about Organizational Learning," University of Wisconsin-Madison. Fall 2003.
"Appreciative Inquiry: Building on Success Stories." Facilitated an Appreciative Inquiry Session with Mary Buchel, for the American Society for Training and Development Exposition, Milwaukee, Wisconsin, U.S., 2003.
Contact Information
rcors@wisc.edu
Phone: (608) 265-8788
Office: 551F Ed Sciences
Current Projects
Cors Fee For Services Projects
Integrating Robots into the Future of Work
Cors MRSEC IEG FFE Project
Cors SOE GTP FFS Project
Cors Space Scouts FFS Project
Cors KSU INFEWS FFS Project
Cors MAUI FFE Project